Contact Support¶
This article only applies to Instructors. Students, please reach out to your instructor to submit a troubleshooting ticket on your behalf.
Business Hours and Holiday Schedule¶
Our Support team operates Monday - Friday between 8AM and 5PM Eastern US time. Please expect delays in response outside of these hours and on the following holidays and closings:
New Year's Day (observed): Dec. 31, 2021
Martin Luther King Jr. Day: Jan. 17, 2022
George Washington Day: Feb. 21, 2022
Memorial Day: May 30, 2022
Juneteenth: June 20, 2022
Independence Day: July 4, 2022
Labor Day: Sept. 5, 2022
Columbus Day: Oct. 10, 2022
Election Day: Nov. 8, 2022
Veteran's Day: Nov. 11, 2022
Thanksgiving: Nov. 23, 2022 - Nov. 25, 2022
Winter Closing: Dec. 23, 2022 - Dec. 30, 2022
How to Submit a Ticket in Console¶
Please make sure you have an account with the Virginia Cyber Range. If you do not yet have an account, please see the article titled Getting an Instructor Account.

If you already have an account, please make sure you can successfully login to the Exercise Area of the Virginia Cyber Range. Please see the article titled How to Login to the Cyber Range for more information.

Once logged into your account, please click on the question mark symbol in the top-right corner of the page. You can refer to the image below.

After clicking on the question mark, you should see a dropdown menu. Please select Support as shown below.

Finally, fill out the form that is shown with as many details as you can about the issue you are having. Click Confirm to send off the ticket to our team. The submission process is demonstrated below.
How to Submit a Ticket via Email¶
If you don't yet have an account, or you are having trouble logging in, you can still get in contact with us via email. You can send an email to support@virginiacyberrange.net to open a support incident with our help desk!
Cyber Range User Experience Survey¶
The Support team strives to provide excellent service to our instructors. After a ticket is resolved, you will receive an email with a link to our survey that looks like this:

The link will take you to the Cyber Range User Experience Survey landing page: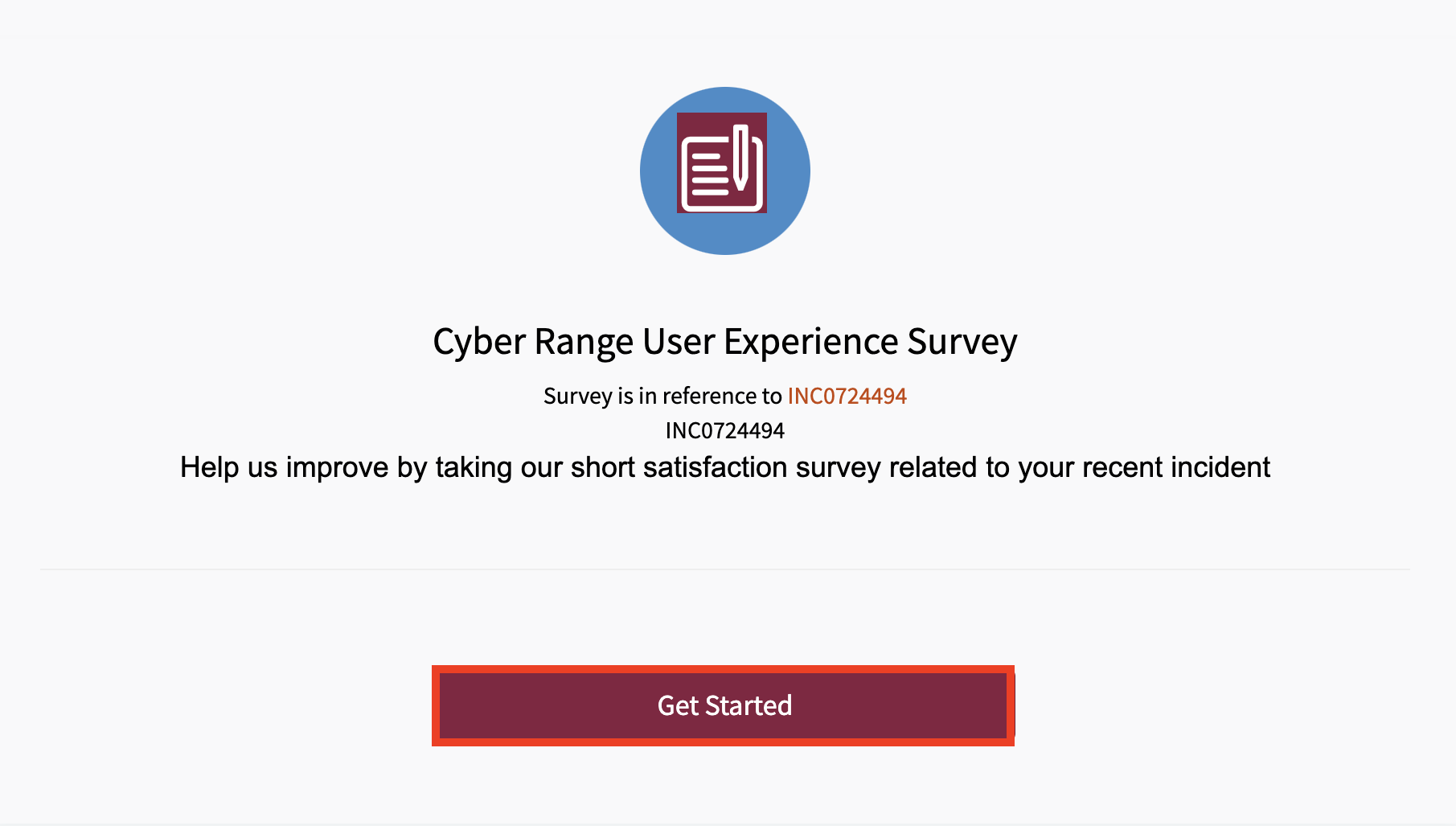 From here, you can click on Get Started and you will be presented with a short survey regarding your experience with our Support team. Any feedback provided through this survey will help us improve how we provide support to all instructors. We thank you for your participation!
Thank You for Your Feedback!