Student Quick Start Guide¶
Abstract
This article will detail the steps needed for students to join a course, start/stop a Virtual machine, and connect to a Virtual Machine in their web browser.
Joining a Course¶
To login to the Virginia Cyber Range for the first time, you must sign up using either an invitation link sent to your email or an invitation code provided by your instructor. Please refer to the article titled How To Join A Course for further details on logging into the Cyber Range for the first time. For subsequent access to your Cyber Range resources, please follow the steps below.
Logging into the Range¶
Navigate to www.virginiacyberrange.org and click on "Login".

Select the OpenID provider of your choice from the list provided. When prompted, enter your credentials for that provider. These credentials will be used to associate you with your Virginia Cyber Range account, so you should always use the same OpenID provider and login credentials when accessing the Virginia Cyber Range.

Once you have successfully logged in, simply click on "Exercises" to navigate the exercise area.
---
Selecting Your Course¶
Once you have successfully logged in and navigated to the course/exercise area page, you will be able to select the course for the exercise that you would like to complete. This page (below) will only list courses that you are currently enrolled in that use Cyber Range resources, so you may only see one course listed.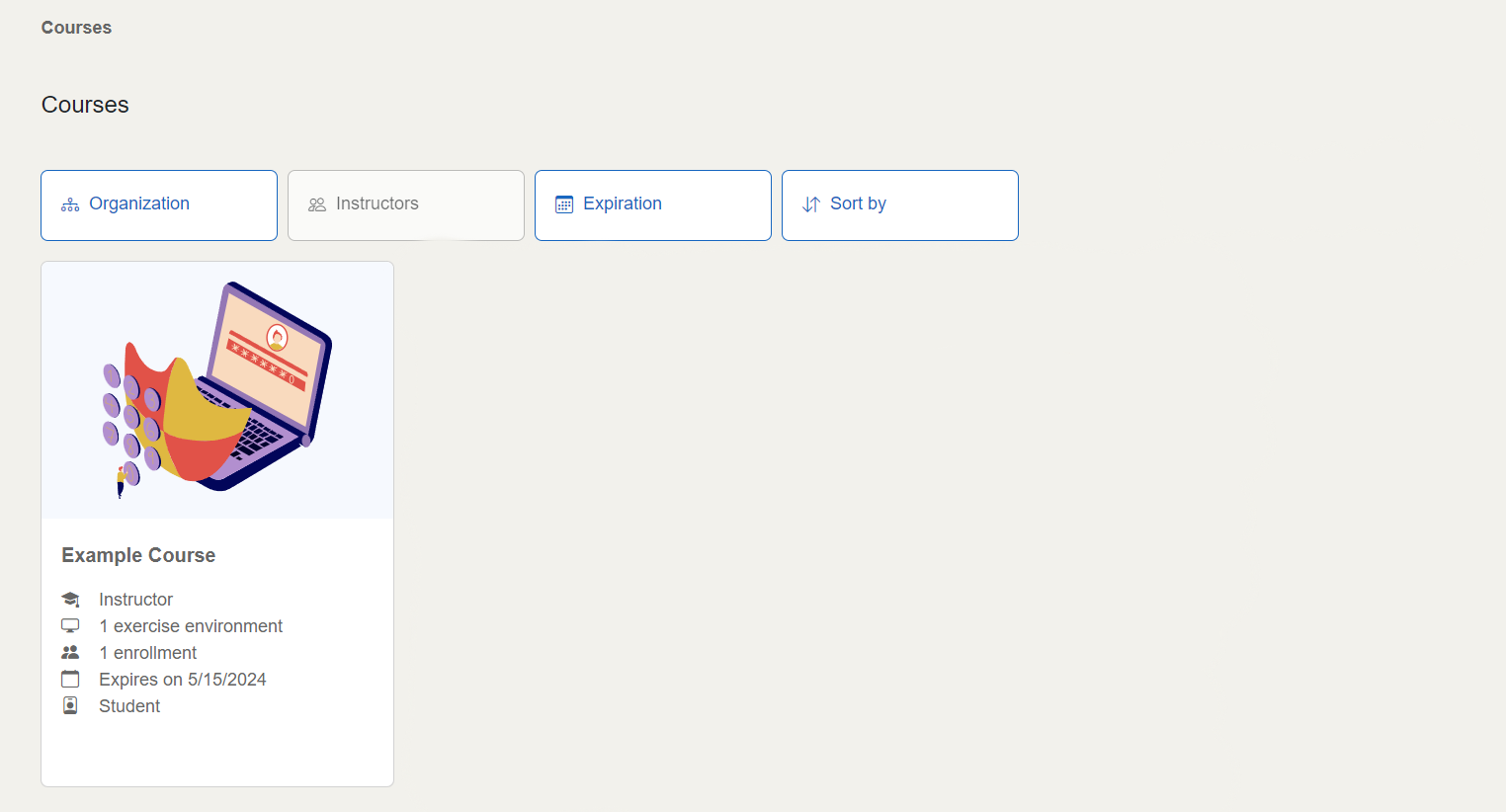 When you select a course, you will see a list of exercise environments currently available for that course on the next screen.
Selecting Your Exercise¶
Click the tile corresponding to the exercise environment that you would like to enter from the list of exercise environments provided (you may only see a single exercise environment listed)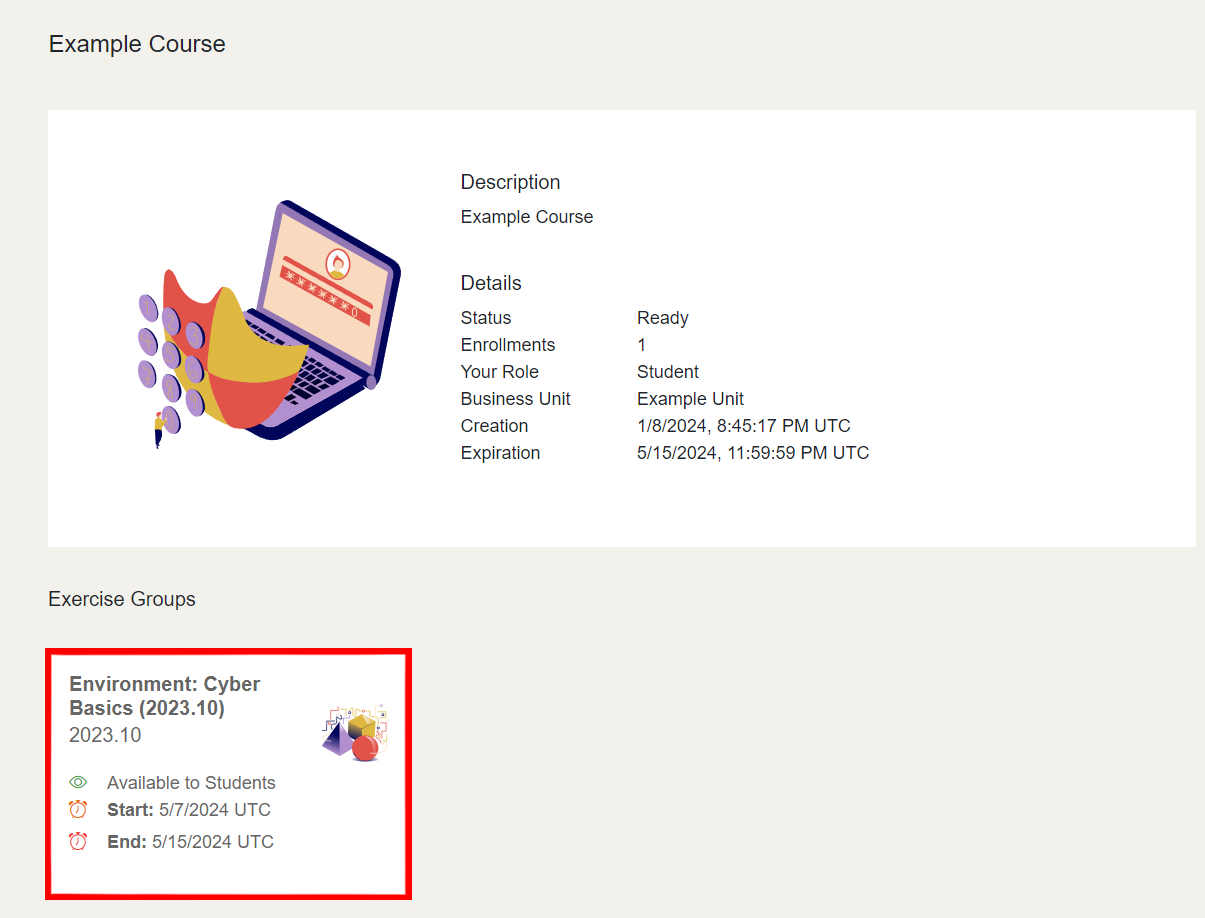 Start Your Exercise Virtual Machine(s)¶
If the required resources for the exercise you plan to complete are not ready, you will see the POWER button on the panel for that exercise environment.
Click the POWER button to start required resources for your exercise. This involves starting one or more virtual machines (VMs), and it usually takes 20 to 30 seconds to prepare required resources.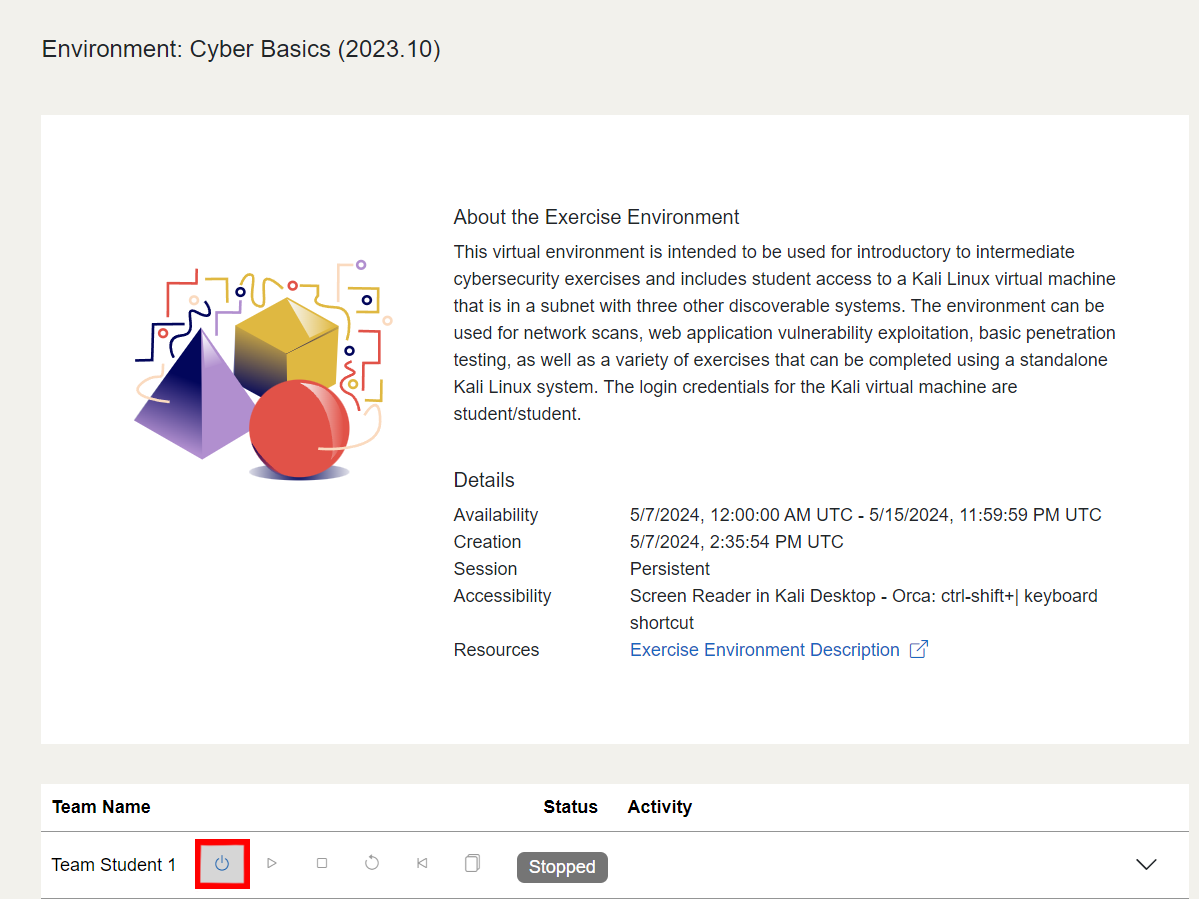 Connecting to Your Exercise Virtual Machine(s)¶
Once resources are ready, you will see the PLAY button. Click that button to gain access to appropriate Virginia Cyber Range resources. A new tab will open in your browser showing the virtual desktop of your cloud-based virtual machine.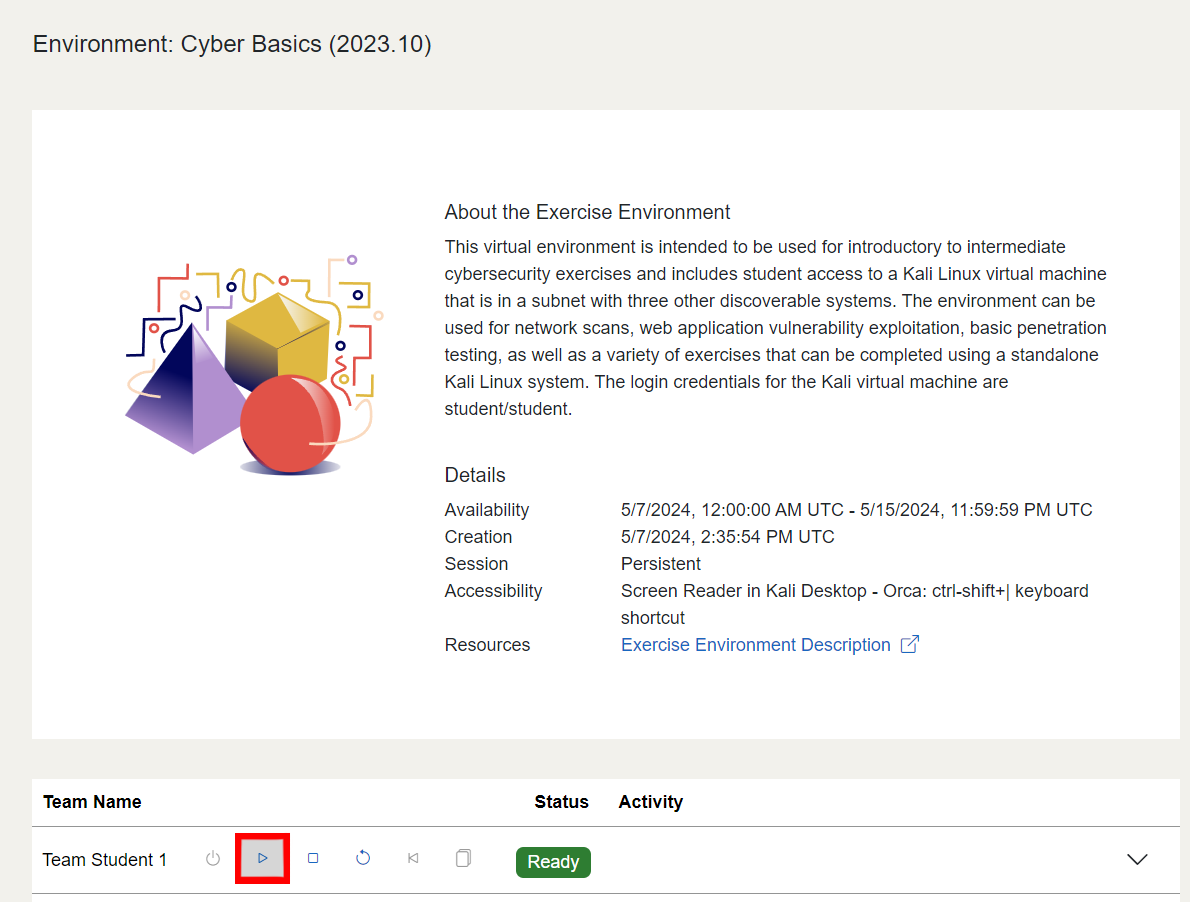 Fixing Popup Blockers¶
If your virtual machine does not open in a new browser tab, check your browser's pop-up blocker and set it to allow pop-ups from console.virginiacyberrange.net. The example here shows how to allow pop-ups for the Chrome browser.

Logging in to Your Virtual Machine¶
Many of our newer virtual machines do not require a username or password, and utilize auto-login to access the environment. However, in some of our older environments, a username and password, which should be provided by your instructor, may be required to log in. The environment description will tell whether a username/password is required. Below is an example of a graphical login screen for a Cyber Range Linux virtual machine, though your login screen might look different.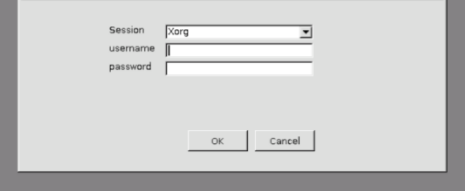 Stopping Virtual Machine(s) Once Finished¶
When you are finished, close the browser tab containing your virtual desktop. On the exercise page from which you joined the exercise, click the STOP button to power down your virtual environment and conserve Cyber Range resources. Saved data will remain persistent on the VM and will be available if you decide to return to the exercise environment later, restart the virtual machine, and log in again.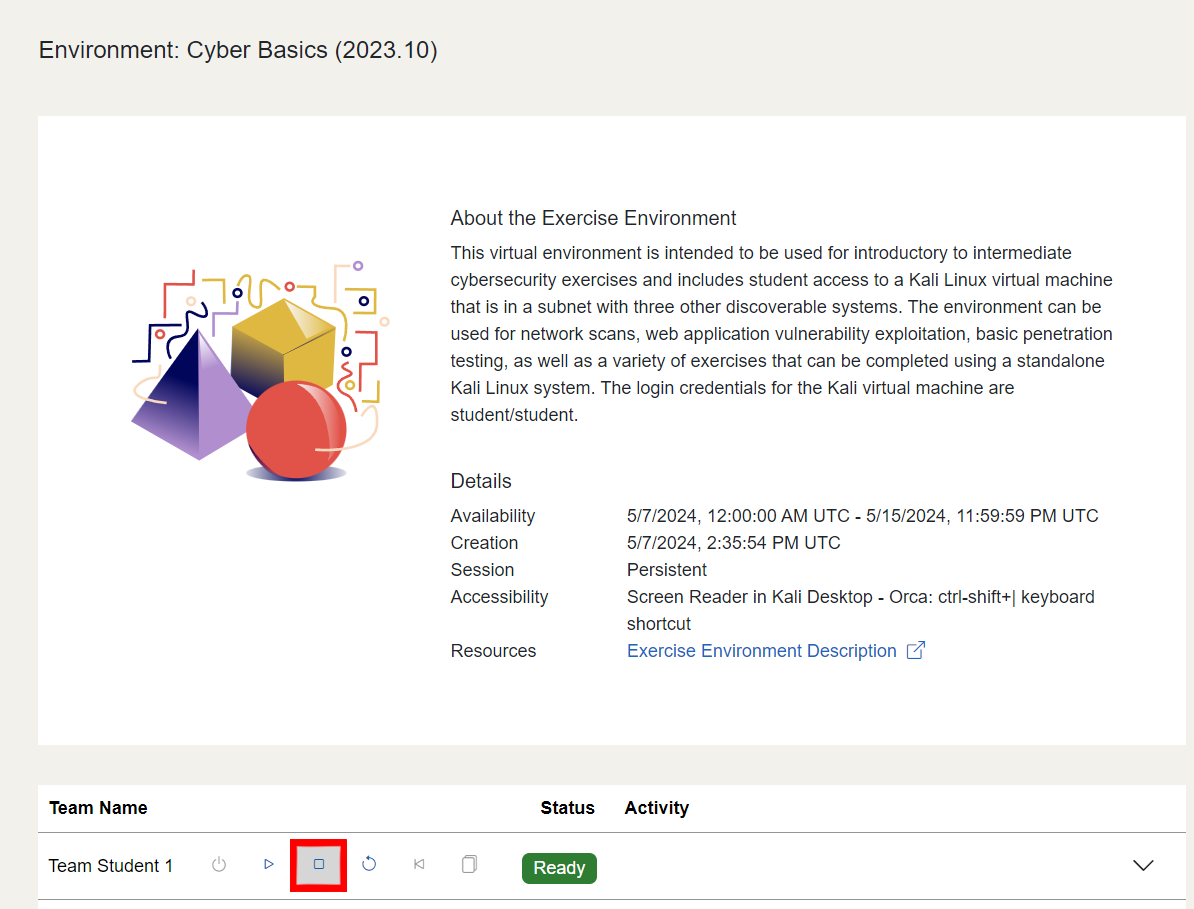 Have a Question? Contact Support¶
Students: Please reach out to your Instructor or Admin who can submit a ticket to our Support team on your behalf.
If you are an Instructor or Admin and still have questions after reviewing the information above, please feel free to submit a ticket with our support team and we'll get back to you as soon as possible.
Thank You for Your Feedback!