Scoreboard Visibility¶
The CloudCTF scoreboard is an excellent tool to track how the competition is progressing. However, each competition is different and requires different levels of privacy. Below are a few options on how to customize your competition to fit your needs, in regards to scoreboards.
How To Enable or Disable a Scoreboard¶
Enabling the scoreboard option will allow players in the competition as well as admins to view a real-time scoreboard of the competition. Disabling the scoreboard option will cause both players and admins to not be able to view a scoreboard of the competition. Many admins prefer to disable the scoreboard in a graded enviroment, to protect student privacy.
Note:
Instructors will still be able to view scores on a team-by-team basis when disabling the scoreboard option. For more information, please visit the How to View Team Scores Article.
To enable or disable a scoreboard, please make sure to navigate to the ADMINS page and select SETTINGS. Next, please either check or uncheck the "Show scoreboard" option. Once you have adjusted this setting, please click on Confirm to save the settings.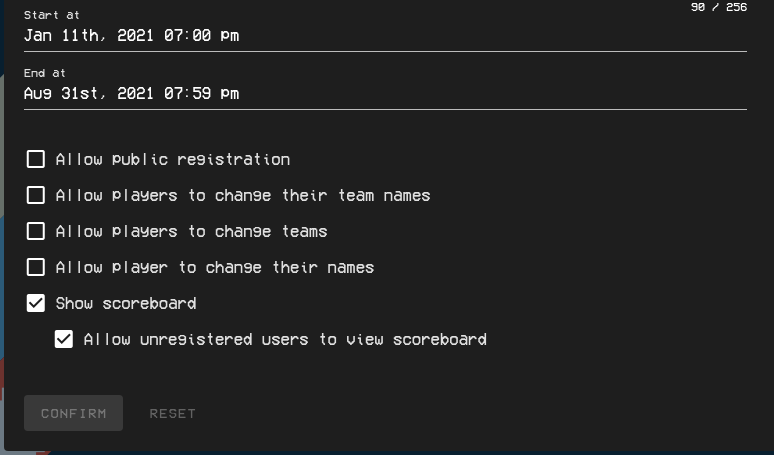 How to Make a Scoreboard Private or Public¶
Another setting available for admins to adjust is the "Allow unregistered users to view scoreboard". If this option is checked, unregistered users will be able to view your CTF scoreboard, and will be public. If the option is not checked, only registered users and admins of the CTF competition can view the scoreboard, making it private.
Note:
In order for unregistered users to view the scoreboard, they must have the correct URL. Admins of the CTF can visit the Scoreboard page and copy the URL shown in their web browser's URL bar. That URL can be provided to anyone, registered or not, to view the scoreboard of the competition.
Any Questions? Contact Support¶
If you have any questions related to scoreboard visibility, please do not hesitate to reach out to our Support Team.
Thank You for Your Feedback!