Digital Badges with Badgr¶
What are Digital Badges?¶
Digital Badges are awards given to celebrate an achievement in educational and professional environments. Digital badges can be used as proof that a certain milestone or achievement has been completed. In this article we will cover how to work with Badgr, a digital badging platform.
What is Badgr?¶
Badgr is a platform that allows for issuing and verifying digital badges. These badges can be issued by educational institutions as a way to verify accomplishments and learning goals. This is done by creating an "Issuer" that represents a school or university. In collaboration with Virginia Tech's TLOS team, the Virginia Cyber Range has created digital badges that acknowledge the accomplishments of students using our platform.
What are Open Badges?¶
Open Badges are the result of an effort put forth by OpenBadges.org alongside IMS Global to specify the verification metadata that should be included with each badge. Since the verification data is directly tied to the digital badge, badges are not restricted to any one platform. Badges earned in Badgr can be uploaded to other badging services and conversely, badges earned elsewhere can be imported into Badgr.
Can the Cyber Range Help Instructors Get Set Up with Badgr?¶
Yes! The Virginia Cyber Range can create a new Issuer for your school. Instructors will be invited to their school's Issuer as a Staff member. This will allow instructors the permissions needed to issue badges to their students. In order to create an account for instructors, we will need the following information:
Name of school
School website URL
Name and email address of any instructors using the platform
Description of school
Once you are invited, you'll need to create a Badgr account using the same email address. Please refer to the next section for instructions on creating an account.
If you are interested in using Badgr, please send an email to support@virginiacyberrange.net with the information listed above.
How Can I create a Badgr account?¶
In order to manage your badges, you will need to create a Badgr account. Please review the following video to help with account creation:
How Can I Award Digital Badges in Badgr?¶
This section will cover how to award badges. Feel free to check out Badgr's guide on manual badge awarding. To get started, you will need to navigate to the Badge Award page. You can do so by following these steps:
Login to Virginia Tech Badgr using the email address that you were invited with.
Select Issuers from the navigation bar at the top of your screen.
Click the "View Issuer" for your school
Select the Badge you would like to award and click the "Award Badge" button
At the Badge Award page, fill out all required fields then click Award Badge. Please refer to the list below for descriptions of each section:
Recipient Information: In this section you can include your student's name and an identifier to associate with the badge you are awarding. In most cases, you will use an email address, but URL and phone number can also be used as an identifier.
Issue Date: Here you can select a date associated with the badge. For example, if you are awarding badges after a CTF competition, you may want to set the date to the competition end date.
Narrative (optional): This gives you an opportunity to describe what was done to achieve this badge. This field does support Markdown to help with formatting.
Evidence (optional): This allows you to provide additional narrative or a URL that justifies the awarding of the badge.
Expiration (optional): If you would like the badge to expire after a certain amount of time, you can set it here. If not set, the badge will never expire.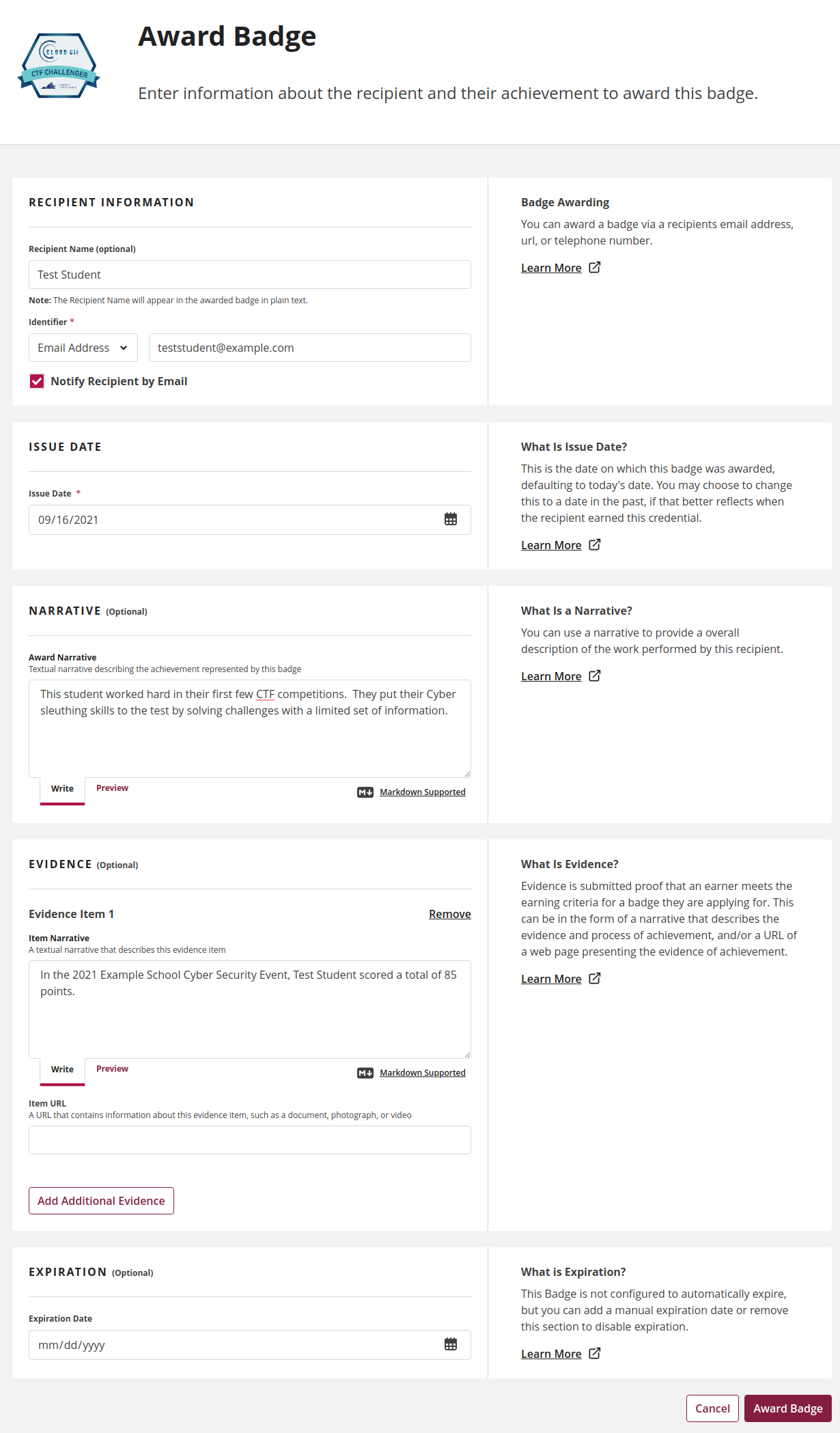 Viewing Awarded Badges¶
After awarding badges, you can review the recipients of a badge. Please follow these steps to do so:
Login to Virginia Tech Badgr using the email address that you were invited with.
Select Issuers from the navigation bar at the top of your screen.
Select your school from the list of Issuers, then select the badge you would like to view.
Click on the Awards tab to view a list of recipients of that badge. issue badges to your students.
How Can Students Manage and Share Their Badges?¶
Students can interact with their badges by accessing the Badgr Backpack. This is where all badges awarded to their account will be accessible. Students will first need to see the section titled How Can I create a Badgr account? to have access to the Badgr Backpack. In this section we will cover some of the important functions of the Badgr Backpack.
Sharing Badges¶
One of the most beneficial uses of digital badges is the ability to share the badge on social media, resumes, personal websites, etc. It allows students to show off their achievements when applying to colleges and jobs. Students can follow these steps to share their badges:
Login to Badgr.
Click on the Backpack tab in the navigation bar to view your list of badges.
On the badge you want to share, click the Share link.
You should see a dialog that allows you to select Link, Social or HTML. From that dialog, you can choose which method of sharing you would like to use.
Printing a Badge Certificate¶
The Badgr Backpack also allows students to print a certificate of a badge. This section will cover the steps to do so:
Login to Badgr.
Click on the Backpack tab in the navigation bar to view your list of badges.
Click on the badge you are interested in printing.
Click the 3-dots icon next to the Share button and select "Print Certificate" from the dropdown menu.
Click on Print on the left side of the screen.
Have a Question? Contact Support¶
We're here to help you. If you still have questions after reviewing the information above, please feel free to submit a ticket with our support team and we'll get back to you as soon as possible.
Thank You for Your Feedback!